We showed previously that a diet rich in omega-6 fatty acids stimulates the growth and metastasis of human breast cancer cells [invasive breast cancer] in athymic nude mice. Overall, these results suggest that omega-3 fatty acids may have a place as adjuvant nutritional therapy in breast cancer and particularly as part of a neoadjuvant regimen. (Clin Cancer Res. 1996 Oct;2(10):1751-6).
Kevin Flatt's Comment: As breast cancer can spread to the lungs, as well as other areas, you may be interested in reading about a 78-year-old man (D.H.) who was diagnosed with terminal lung cancer and had only a few months to live. Five years later, without chemotherapy or surgical excision, he is still alive and has even gained a little weight thanks to omega-3's.
Professor Ronald S. Pardini informed me (Kevin Flatt) in an email on Tuesday, 5 August 2008 that D.H.'s most recent CT scans show continued decreases in his lung cancer tumors to 99% compared with about 90% as of April 2004, as mentioned above, and he is stable.
The article also relates to breast cancer. Click here to read the article (opens in a new window).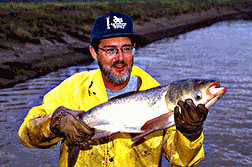 There have been several studies that have tested this hypothesis in relation to breast cancer. Practically all of these studies found an association between a higher ratio of omega-3 to omega-6 fats and reduced risk of breast cancer.
Omega 3 fats (alpha-linolenic acid, EPA, DHA) have been shown in animal studies to protect from cancer, while omega 6 fats (linoleic acid, arachidonic acid) have been found to be cancer promoting fats.
Omega-3 oils fish oils appear to protect against metastasis (spread of cancer to other organs), which is the primary cause of death among cancer patients. Fish oils are also known to prolong survival among individuals who have developed cancer. Omega-3 fish oils have also been shown to improve the efficacy of anti-cancer drugs. (PRWEB January 30, 2006).
In experimental studies using human breast cancer cells eicosapentaenoic acid and docosahexaenoic acid (DHA) – omega-3 polyunsaturated fatty acids (PUFAs) that are abundant in fish oil – have exhibited protective effects.
We recently showed that DHA, an omega-3 PUFA, suppresses mammary cancer in rats more effectively than does eicosapentaenoic acid. (Breast Cancer Res 2004, 6:R291-R299).
Linoleic acid, an omega-6 PUFA, accelerates growth of human breast cancer cells.
Flax seed is an excellent source of dietary fiber, omega 3 fat (as alpha-linolenic acid), and lignans.
Thompson's research group studied mice that were injected with human breast cancer cells. After the injection the mice were fed a normal diet for 8 weeks while the tumors grew. Then one group continued the normal diet and another was fed a 10% flax seed diet. The flax seed reduced the tumor growth rate and reduced metastasis (the spreading of a disease to another part of the body) by 45%. (Cancer Lett 1999, 142:91-96).
A number of other studies are already underway at the laboratory, including examining the use of fish oil to help patients to better tolerate chemotherapy and improve nutrition. (www.health.nsw.gov.au).
Epidemiological (population) evidence strongly links fish oil, which is rich in docosahexaenoic acid (DHA) and eicosapentaenoic acid (EPA), with low incidences of several types of cancer. The inhibitory effects of omega-3 polyunsaturated fatty acids on cancer development and progression are supported by studies with cultured cells and animal models.
Of particular interest are the many reports demonstrating anticancer properties of omega-3 PUFAs on the growth and survival of various cancer cell lines cultured in vitro (in a laboratory). Included in the growing list of affected cell lines are breast cancer cells. (Breast Cancer Res. 2005; 7(5): R645–R654).
Results from their in vivo [in the body] pilot study that used a nude mouse heart injection model suggest that a fish oil diet also can slow down bone metastasis [the spreading of a disease to another part of the body] of the breast cancer cells. (Annual rept. 1 Sep 2004-31 Aug 2005).
Sponsored Links

References:
Donaldson MS. Nutrition and cancer: A review of the evidence for an anti-cancer diet. Nutrition Journal 2004, 3:19 (20 October 2004).
Siddiqui RA, Zerouga M, Wu M, Castillo A, Harvey K, Zaloga GP, Stillwell W. Anticancer properties of propofol-docosahexaenoate and propofol-eicosapentaenoate on breast cancer cells. Breast Cancer Res. 2005;7(5):R645-54. Epub 2005 Jun 7.
Related articles:
Breast Cancer Prevention with Whey Protein
More Articles of Interest: